ISE (Integrated System Europe), the world's largest AV and system custom install show, took place at the RAI Amsterdam on Feb. 11-14, 2020. It is a significant platform for reaching a wide range of customers, from partners, dealers, integrators to end-customers. For most exhibitions of the audio industry, ISE is indispensable to keep up with the fast-growing marketplace and showcase the latest product innovations and solutions.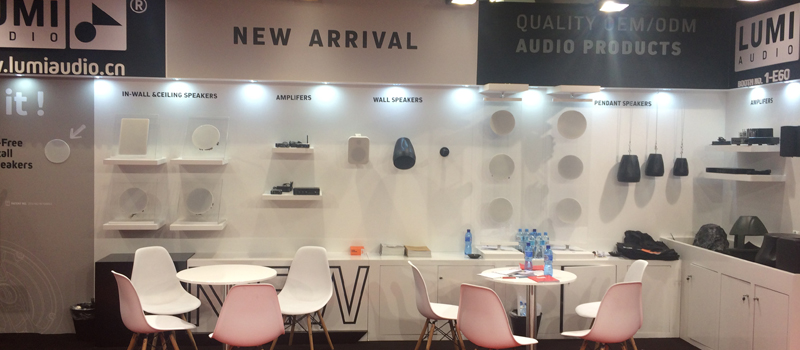 As a professional manufacturer and supplier of pro audio solutions, LUMIAUDIO has attended this great event. We showcased our latest and featured audio products, including Wi-Fi Ceiling Speaker, Tool-Free Quick Install Ceiling Speaker, Bluetooth Ceiling Speaker, Bluetooth Amplifier, Wi-Fi Amplifier, Bluetooth Indoor and Outdoor Wall Speaker, Bluetooth Landscape Speaker, and other related accessories.
LUMIAUDIO's FLF-6TF is a brand-new ceiling speaker which gained lots of attention at the show. It incorporates a revolutionary toolless installation mechanism that can automatically engage the dog legs when the speaker is inserted into the cutout hole while adjusting to surface thickness. It effectively simplifies the installation process and reduces the installation time in half, which makes it a perfect choice for the buyers who enjoy the invisible and less-messy look of ceiling speakers but feel trouble in the installation. In addition to the quick install, the FLF-6TF features 6.5'' polypropylene woofer and 0.75'' pivoting silk dome tweeter, allowing the speaker to offer excellent sound quality with wide, uniform dispersion for installations that require coverage over large areas. Besides, the Bluetooth version and the speaker with the transformer version are also available for the options.
Wi-Fi-based audio system allows for the total control of your listening experience, from the whole house to zoned audio, you can synchronize or customize sounds in multiple rooms that tailored to your needs. The 2-way ceiling speaker WSP-6 from LUMIAUDIO incorporates the Class D amplifier and latest WiFi technology. It can be used as a single source (L/R stereo) speaker or can be used as a Master/Slave configuration by adding a secondary passive speaker, which is a great option for your multi-room audio system. To take control, you can download the free iOS and Android SmartSonix from the APP Store. Once set up, you can use your phone, tablet, laptop to play music in any room of your home.
10'' Landscape Subwoofer GSSUB-10 takes the party outside with style and great sound. It features a down-firing configuration that delivers tight, accurate bass. Capable of providing realistic low and realistic bass effects whenever the music or movie needs it. Combined with the GSP Series Landscape Audio Speaker, you can turn your backyard or any other of the outdoor into an entertainment center. Moreover, the weather-resistant enclosure allows it to withstand even the harshest weather conditions, making it the ideal audio choice for the garden, pool, yard, or on the patio.
For more information, you can freely contact us at any time.