For sellers of TVs, TV mounts and other video accessories, have you thought of adding Soundbars to your product line? Read this blog, it might just help you make the decision!
TV technology has innovated over the years from the old CRT style TVs to today's nearly paper-thin OLED screens. These new technologies have resulted in the size and thickness of TVs becoming thinner and thinner. Ultimately less space exists inside the TV for the audio components including amplifiers and speaker drivers. Yet, with these new thinner TVs, people also want to bring higher performance sound to their viewing area that emulates a theater experience.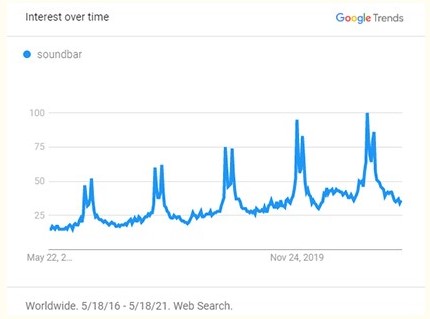 To provide a solution for this customer desire, LUMI Audio offers two economical 2.0 Channel Bluetooth Soundbar Choices SBA-30 and SBA-40. These Soundbars are intended to provide an audio solution for people who have compact living space but still desire a theater-like surround sound experience. Best of all, the affordability factor is high with LUMI Audio Soundbars - so even those on a tight budget can enjoy improved audio. Our Soundbars are also great for adding enhanced low frequency bass to movies or gaming – and designed with a slim profile without sacrificing any features. Both Soundbars offer AUX, optical, USB, Bluetooth inputs to meet nearly every application. The SBA-30 additionally provides ARC (HDMI Audio Return Channel) so it is the perfect choice for users who want to take advantage of the digital audio signal that's carried in more advanced TVs. Finally, Soundbars can be used independent of TVs, including bookshelves (in the place of bookshelf speakers), gaming rooms, workout areas, reading areas and so on.

SBA-30 2.0 Channel Bluetooth Soundbar
The SBA-30 is a powerful and exceptional Soundbar that upgrades TV/Movie viewing to a theater-like audio and visual feast with two quality drivers within an optimized enclosure. Featuring a stylish design (31.5"x2.4"x2.6"), the SBA-30 Soundbar can integrate into any home décor, whether freestanding on a surface or mounted to the wall. The advanced digital inputs are ideal for providing the cleanest, loss-free audio reproduction. Bluetooth enables convenient wireless streaming – perfect for listening to music and other audio content with up to 10M/33ft range. Use the side panel control or the included IR wireless remote control to easily change the settings of the Soundbar from across the room. It also features 4 EQ Settings (standard, talk, movie and music) which allows users to customize their listening experience to their preference. As an example, the TALK EQ Mode helps with speech intelligibility by boosting the 1,000 Hz to 4,000 Hz range around 3 to 5 dB to increase speech clarity. Other settings provide a more cinema-like sound with rich lows that help deliver an enhanced listening experience along with other EQ settings for general music listening.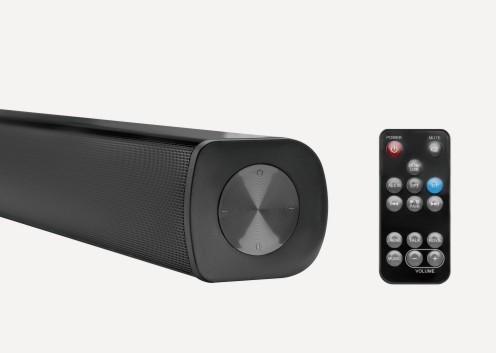 SBA-40 2.0 Channel Detachable Soundbar with Bluetooth
For consumers seeking a little bit more, the SBA-40 Bluetooth Soundbar Set is another great performing economical choice! The Soundbar offers increased versatility as it can be used as a conventional Soundbar, or it has the ability to "split" and become two standalone satellite speakers (38.6"×2.2"×2.4"). Internal design has been optimized for increased audio output and improved performance. Five unique EQ settings are included that allow the discriminating user to customize their listening experience including Pop, Jazz, Rock, Live and Classic.




There are a few ways to use the SBA-40 in a "home theater" configuration, such as freestanding, split wall mounted, horizontally wall mounted and desktop placement --- so it's easy for a user to use the Soundbar according to their individual preference. Wall installation is made simple and easy with hardware included.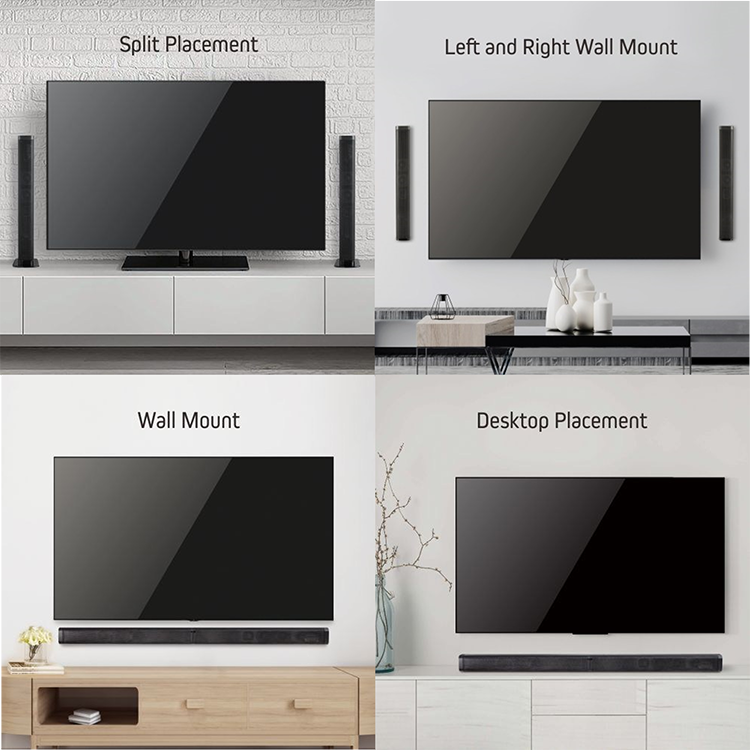 You Might Want to Sell Soundbar Mounts as well
Increasing demand of Soundbars means an increased demand for Soundbar mounts! LUMI has all the popular styles of Soundbar mounts and brackets for nearly any type of installation and use of a Soundbars! From Soundbar brackets to TV Soundbar Mounts, LUMI has it all.
The SB-49 Versatile Soundbar Bracket is a hot seller that's compatible with Soundbars of 20'-45" Width and 1.6"-7.2" Depth, which means users are free to adjust the distance between the Soundbar and TV. Adjustable tilt of 10° to position the Soundbar for the optimal listening experience. Mountable above or below the TV depending on room size and placement of furniture (compatible with the SBA-30 and SBA-40 mentioned above).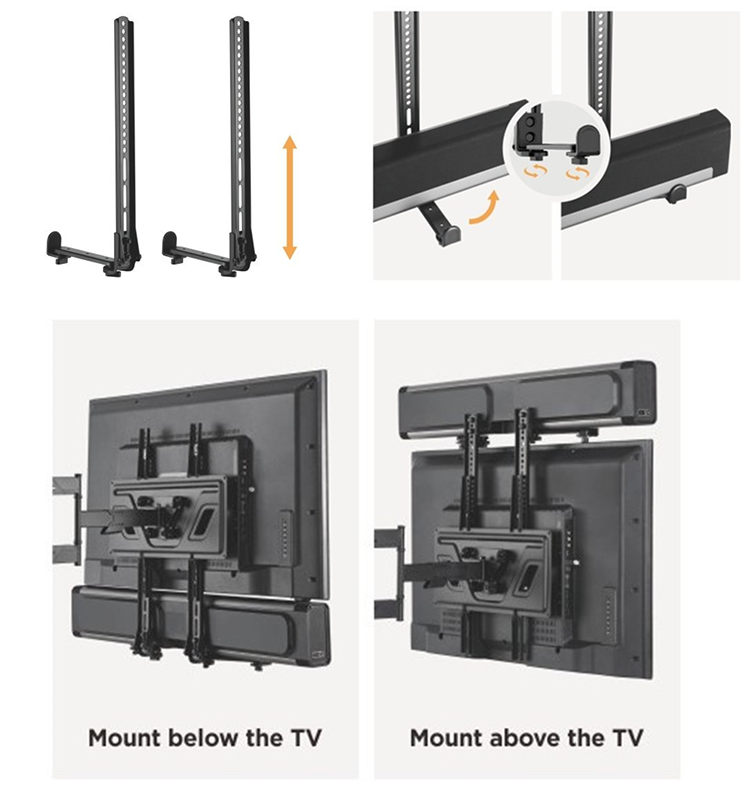 Hopefully, you've found the information above helpful and you're now ready to jump into the Soundbar market with LUMI's SBA-30/40 – providing your customers with two feature rich, economical choices that are guaranteed to improve their TV viewing time while adding sales and profits to your bottom line. Contact LUMI today for more information, samples and pricing!