The holiday season is coming around the corner, most of us enjoy staying at home with family members and friends, snuggling up on the sofa, putting a blanket over on, listening to the classical music and watching favorite movies. And with a set of home theater system, we can enjoy the fully-immersive sound experience right in our own home.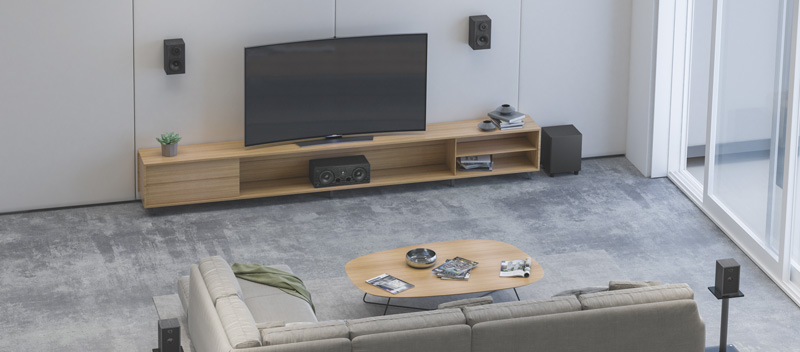 But how to get started with the home theater experience? Here are some basics of the home theater system.
An average home theater system includes an audio system and speakers, a receiver, a video projector and screen or television, and cables or wires. However, if you want more, many options that can be customized to your preferences and budget.

Before setup, the first to do is determine the room of place and size you intend to install. It is easy to get frustrated while buying equipment only to realize that the devices are too big for your room. Therefore, before purchasing, you can figure out the general dimensions of the room and draw a draft on about where you want to place the home theater set.

The next is about to pick an audio system. You've probably heard the 5.1-channel and 7.1-channel, which are the two most popular home theater speaker systems. The "5" stands for a left front speaker, a right front speaker, a center channel speaker, a left surround speaker, a right surround speaker, and the "1" refers a subwoofer. On the base of 5.1, the 7.1 surround sound system adds two extra speakers, which are placed at surround back left and surrounded back right. Compared to the 7.1, 5.1 has wider compatibility, which is easier to set up and better for small rooms. While, of course, more speakers means more channels for more detailed sound and always means more cost.

In addition to the speaker system, the AV receiver is another crucial part of a great home theater. It not only powers your whole home theater system but is the brains behind the whole system, making a fantastic home theater system surround sound possible. When purchasing an AV receiver for the home theater, making sure the receiver has enough channels for all the speakers you have now and plan to add in the future. For example, the 5.1 surround sound, you'll need at least five channels. Moreover, make sure you can hook up any video sources, such as a DVD player or an Apple TV, and think about anything you'll be connecting to now or in the future, like if you want to play music wirelessly, you'll need Wi-Fi onboard, etc.

Generally speaking, the TV projector is more cost-effective than TV and has a bigger screen size. But as regards to brightness and contrast, the TV has the edge over the projector. In short, when choosing from a projector and a TV, taking personal preferences, budget, and how you plan to use into consideration.

As a professional supplier and manufacturer of audio products – LUMIAUDIO offers commercial, residential, and pro audio solutions. If you have any questions about our products and serves, please feel free to contact us!