As the development of streaming audio technology, it is accessible and convenient for us to listen and control the same song in different rooms, or play multi-channel songs in different rooms, all via a device like a tablet or a phone in your hand. Bluetooth and Wi-Fi are two main options of wireless speakers.

As a Chinese professional audio supplier and manufacturer, LUMIAUDIO is always dedicated to the research and design of the Pro Audio Solution, including smart home audio like Wi-Fi ceiling speakers, Bluetooth ceiling speakers, and Wi-Fi audio adapter.

If you are in the market for a ceiling speaker featured wireless function but aren't quite sure which option to take, we are happy to help you. So, what're the differences between Wi-Fi speakers and Bluetooth speakers?

Bluetooth was the most reliable method to connect to speakers for a period of time wirelessly. While, Wi-Fi has risen to glory in the last few years. Considering the music quality, the Bluetooth compresses the audio file so that to send the data without interference. On the other hand, Wi-Fi can wirelessly send audio without sacrificing the quality. Besides, when thinking about the connection methods, most Bluetooth speakers use Bluetooth wireless technology to stream music from another device, such as a smartphone. No other external network needed, and they can be used almost anywhere. But the Wi-Fi speakers require a Wi-Fi network to connect another device, while Wi-Fi is not accessible everywhere. Thirdly, regarding the transmission range, most Bluetooth works over a range of 10 meters, and obstacles between two devices can drastically reduce the range. While, a typical Wi-Fi router operates on the traditional 2.4 GHz band reach up to 46 meters indoor and 92 meters outdoor. Last but not least, Bluetooth speakers are usually less pricey than Wi-Fi ones.
Wi-Fi ceiling speakers WSP-6 series and Bluetooth ceiling speakers FLC-6BT series are two ace products of our smart home audio. Both of them allow playing music synchronized from streaming devices, that are the perfect choices for the home audio system.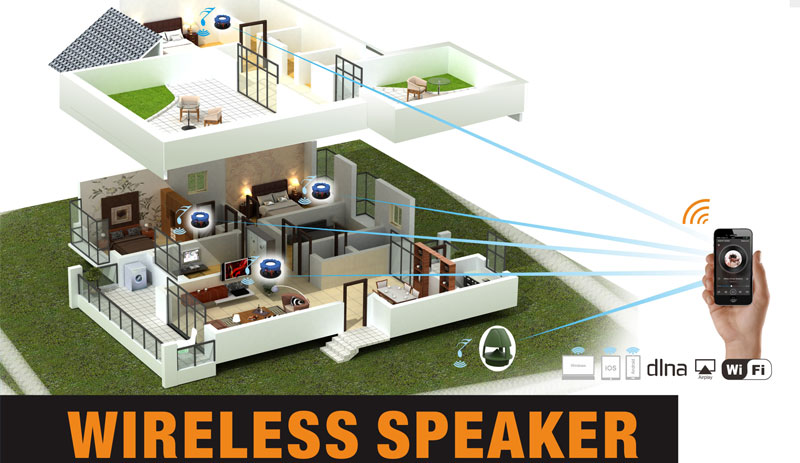 Wi-Fi enabled ceiling speaker WSP-6 allows for total control of your listening experience, form multi-room audio, you can create a customized audio environment tailored to your needs. It incorporates the latest Class D amplifier and Wi-Fi technology that can be used as a Master/Slave configuration by adding a secondary passive speaker. In addition, another Wi-Fi ceiling speaker in the series - WSP-6S consists of an active and a slave speaker. The system makes it easy to add multiple zones of Wi-Fi streaming music with an all-in-one affordable multi-room audio solution. To set up and control by downloading a free Smart Sonic APP available in both the iOS and Android market.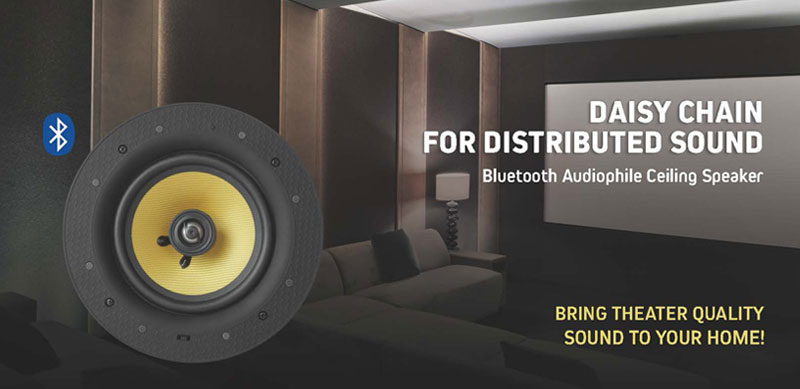 Similar to the Wi-Fi ceiling speaker WSP-6, FLC-6BT is a 2-way ceiling speaker that offers Bluetooth streaming audio connectivity combined with a sound performance that pleases the ears. Bluetooth 4.1 advanced wireless streaming audio pairs up quickly to any Bluetooth enabled device, and can be used as a single source (L/R stereo) speaker or can be used as a Master/Slave configuration by adding a secondary passive speaker. Additionally, the same series Daisy Chaining Bluetooth ceiling speaker FLC-6BT-DC provides low-latency and fast connection. Daisy chaining as many as speakers you want, streaming favorite songs from your smartphone or other devices, and bring the theater-like sound to your home.

As a professional supplier and manufacturer of audio products – LUMIAUDIO offers commercial, residential, and pro audio solutions. If you have any questions about our products and our serves, please feel free to contact us!